Portable Garbage Compactor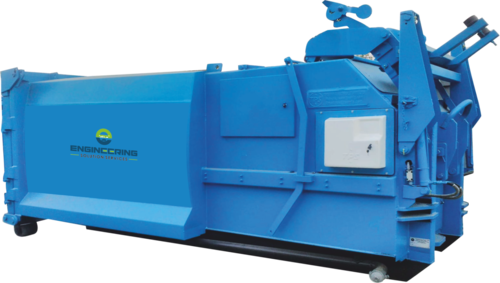 Portable Garbage Compactor
Product Description
A Portable Compactor is an integral Unit comprising of a Compactor and a Container Body Mounted on a frame with rollers and is designed to be transported by specially designed Hook Loader Unit, which is driven to the dumping ground/processing plant for discharge of compacted garbage
The Portable Compactors are designed for installation at street corners (Dhallows) to receive Solid Waste from handcart (approx. 5 to 6 handcart)/ 2 to 3 tri-cycle rickshaws) at a time into a bucket, unload and compact the same hydraulically into the container body.
The above arrangement of solid waste collection equipment is a hygienic and mechanized solution to existing collection system (Dhallows) being used in Delhi.
Some of the salient features of the offered municipal solid waste management equipment system are given below:-
In the conventional method of handling garbage, the garbage is stored in bins for long hours before the Garbage is picked up by Compactors creating foul smell. In case of effective solid waste management machinery and equipment like Portable Compactors, the Garbage is compacted as it comes and kept in a closed container and therefore foul smell is minimal.
In rainy season, water enters the storage bins and the area around the bins becomes a breeding center for mosquitoes and flies causing health hazard for the people living and working around garbage collection centers.
The Portable Compactors as effective solid waste management machines are installed in a covered area and is protected from rain. The Leachate generated during compaction of the garbage is probably handled and does not allow breeding of mosquitoes and flies. The Garbage is transferred to the dumping ground in a clean and hygienic manner.
These solid waste management machines are ideally suited for installation in areas where large quantity of garbage is generated such as Vegetable Markets, Large Hotels, Restaurants, Canteens, and Malls etc.
The one Hook Loader equipment is sufficient to handle 2 to 3 Portable Compactors depending upon the lead upto the Dumping Yard / Processing Plant. The setup acts as an effective way to implement municipal solid waste management equipment system.
Technical Specification
| | |
| --- | --- |
| Capacity | 10 - 20 Cum |
| Automation Grade | Automatic |
| Brand | ESS |
| Country of Origin | Made in India |
Contact Us
K-90, Pratap Vihar, Sector-12 Vijay Nagar , Ghaziabad, Uttar Pradesh, 201001, India
Phone :+918037549694